CONGRATULATIONS TO LARK AND JEFF!
Our very own Lark Doley won 1st place at the Division K Evaluation Contest this afternoon, and Jeff Johannigman placed 2nd in the Humorous Speech Contest. We are very, very proud of you both.
(I had brought my camera, but darn it, I forgot to take photos afterwards. Sorry guys. The look on Lark's face was priceless.)
Lark will go on to compete at the District Conference on November 17th, at the Hilton Airport Hotel. See details on our website: Club News.
OFFICER PHOTO SHOOT
I did remember to shoot our officers though. Actually, Steve Sigrest did, as Iím one of the officers. Here's our latest Club Offer photo. Jaime wasn't present, but perhaps someday we'll get a picture with all of us together. For now, this photo will go on the front page of our website to replace last year's. (Thank you, Steve S.)
<![if !vml]>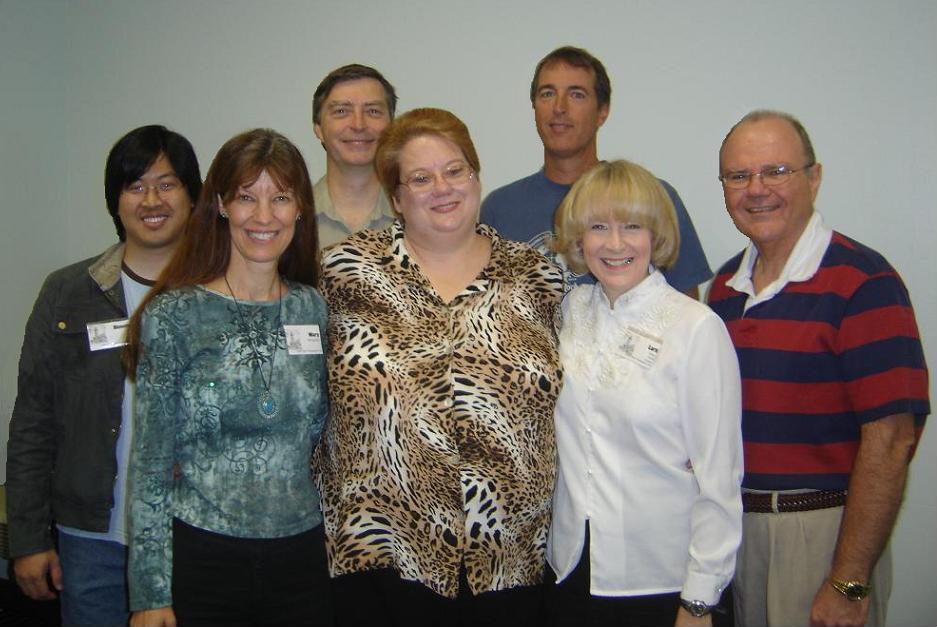 <![endif]>
Back row gentlemen: Dennis Pu, VP Membership, Steve Montgomery (Immediate Past President), Rich Bassemir (VP Education), Mario Galliano (Sgt. At Arms)
Front row ladies: Mary Montgomery (VP Public Relations), Debi Sigrest (President), Lark Doley (Treasurer)
SOMETHING NEW ON THE WEBSITE (repeat message from last newsletter)
We've been having so many new and exciting things happen lately that the first page of our website had gotten cluttered. So, your webmaster has created a new page: Club News.
MEETING RECAP
Another fantabulous Arthur Storer Club meeting. We had 4 guests too. (Did you know that we have been averaging 3 guests per meeting now?)
Dennis was our Toastmaster today, with the theme: Halloween.
We had five (5) firsts today:
Christine Ihorn (1) and James Allen (2) took on meeting roles and did an excellent job. Both even added humor into their presentations. Christine (3) took first place for her Table Topics response, which I believe was her first Table Topics experience.
We had only two speakers this morning, and they were husband and wife, delivering their Icebreaker speeches! Mark (4) and Josie (5) gave their first speeches and were likewise terrific. We really enjoyed learning more about them, and were impressed with what accomplished speakers they already are. We look forward to hearing more from them in the future.
Rich made us all laugh with his evaluation of Mark, saying that Mark diplomatically went over time so that his wife would win best speaker. Then, when Jeff came up to evaluate Josie, he stated that he disagreed with Rich; Josie was by far the better of the two and would have won anyway.
What a great group we have.
AWARD WINNERS
Josie and Mark took First Speech awards, and Josie received Best Speaker award.
Christine Ihorn took Best Table Topics.
Jeff Johannigman took Best Evaluator.
And Mario Galliano received the Most Enthusiastic award. We all love his dry wit, and he did such a great job as Table Topics Master today.
BIRTHDAYS
We will be celebrating our one and only November birthday at our next meeting, November 10th.
November birthdays:
Jeff Johannigman, November 4th
We hope to see you all at the next meeting.