Welcome to the Austin Windsurf Club Webpage
We are always under construction. Some links may not work.
http://www.main.org/austinwindsurf
Last Updated April, 2004
Affiliated with the US Windsurfing Association
---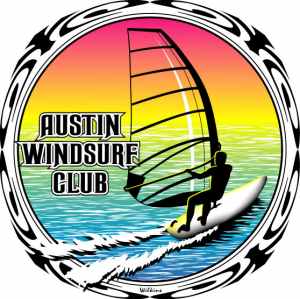 The AWC T-Shirts will be available for purchase at club events. The above graphic is on the back with the AWC logo on the front.
---
Two mailing lists have been set up for you to receive up to the date information on club events.
The first one is the general mailing list: Click to subscribe to austinwindsurf

The second one is for those interested in the Thursday evening gatherings at Windy Point (racing, practicing & whatever): Click to subscribe to austinwindsurf-race
---
AWC Regular Meetings are normally held on the second Tuesday each month.
Time: Eat/Socialize 6:30pm, meeting 7pm
Location: This varies depending on the meeting content. Contact a board member for latest location.
---
Check out the weather information and Web Cam at Lake Travis
Visit the AWC message board
---
Windy Point Hours:
Winter (Nov. 1 - Feb. 28) 9:00 am to 6:00 pm
Spring (Mar. 1 - Apr. 30) 9:00 am to 7:30 pm
Summer (May 1 - Sept. 9) 8:00 am to 9:00 pm
Fall (Sept. 10 - Oct. 31) 9:00 am to 7:30 pm
---
AWC Goals
Provide a means for people with common interests to get together for fun, group trips, parties, meetings and racing.
Promote safety and improve boardsailor skill levels through clinics and newsletters.
Protect boardsailors' interests in local government matters by having a unified voice.
---