Speaker, Tom Pickering.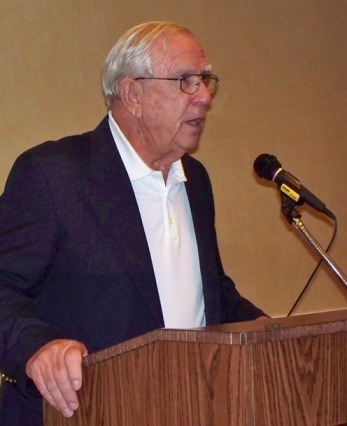 Tom is a son of Washington State and spent his youth in Ft Lewis Washing. He played the Banjo at Shakey's pizza. He completed OTS after attending the University of Idaho. The received his wings at Willey and became the youngest aircraft commander in the B-66. He helped develop the EF-111 and was a squadron commander. He had one of the shortest tours at the Pentagon and not fired. Later he was the DO at Tonopah.
Tom found the F-117 unit to be one of the most patriotic units that he had ever been in. In 2 years, 2 wives reported that their husbands had loose lips. Everybody was considerate of the need for secrecy. If something happened at home, the wives had one number to call. The wives worked hard to keep morale up. The unit was called the 4450th Tactical Group so that no one could estimate the unit composition. Members wore just one patch on their flight suits to limit information. It was thought that it was the most secret project since the Manhattan Project. The first delivery from the Burbank plant was in 1981. There was not one leak out of the pant. Tom arrived at the 4450th in '86 and his first impression was that the F-117 was the ugliest airplane that he had ever seen. The F-117 was only rolled outside the hangers at night and landing at over 200 kts, it took the entire 13,000 foot runway to stop it. It had the largest drag chute of any fighter. The pilot had plenty of room in the cockpit, the windows are flat plates and highly reflective. If you dropped anything, you were cautioned to leave it since you could easily become disorientated when sitting back up. If you were on the flying schedule, you didn't see the light of day all week. Activity started at Astrology night, when it doesn't get any darker. The schedule was also built around the Soviet Satellite because the plant could be seen on the ground. You taxied only with the forward infra red sensor to keep you on the line. Since refueling was comm. -out and the tanker was very dimly lit, it was a challenge.
The Flight Captain closed the meeting and announced that CP Phillips would be 91 in three weeks.