On November 7 of last year, the citizens of Austin approved Parks and Recreation Bond Proposition 3 by a huge margin. Part of the bond package was funding for a community center for the area north of 183, to be located within NACA.
And now, the City of Austin has authorized $750,000, separate from the bond money, to purchase the 6.9 acre parcel of land bordered by Rundberg, Rutland, Mearns Meadow and the Little Walnut Creek territory behind the HEB on North Lamar, as the sight selected to build the North Austin Recreation Center. The 18,000 square foot building, by itself, will front as 1000 Rundberg and take up less than ten percent of the 6.9 acres.
The NACA task force that chose, pushed for, and ultimately landed the site consists of Cliff Brown, Martha Dempsey, Kristin Harrison, Nancy Lehmann-Carssow, Nestor Menjivar, Linda Moore, Mai Nguyen, and Anthony Williams. They deserve grand applause for their efforts.
The proposed city budget to be adopted in mid-September will include $2 million for the design of the new 18,000 square foot facility. When the budget is finalized, the next step will be to name a project manager and hire an architectural firm to do the actual design. Later on in the planning, neighborhood meetings will be held to get citizen input into the process.
The Center is projected to have a wide range of facilities, including a gymnasium, a computer lab, classroom and meeting areas, and plenty of multi-purpose space for community events and cultural and educational programs.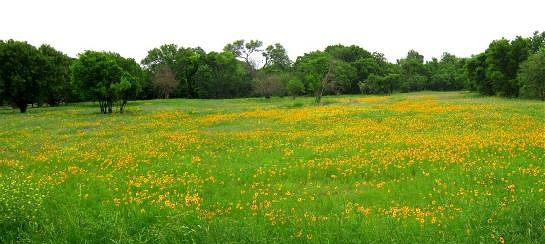 The Mearns Meadow meadow at its springtime best. More than half the 7 acres will remain free to grow.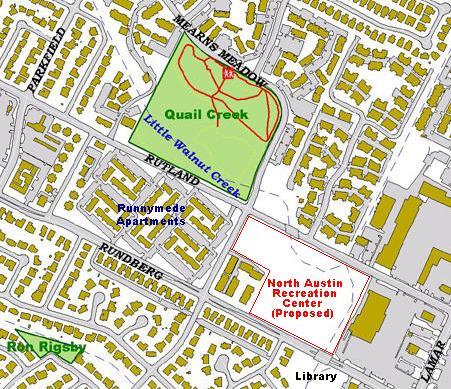 The location of the new recreation center - near the Little Walnut Creek Library, which is currently being remodeled, and Quail Creek Park, itself due for added facilities from the Steps to a Healthier Austin program.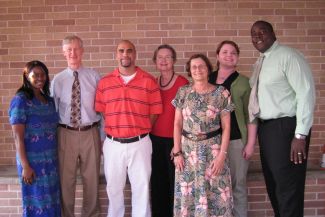 The North Austin Community Task Force who lobbied for the $8.9 million Recreation Center in NACA: (l to r) Martha Dempsey, Stuart Strong (of Parks and Recreation), Anthony Williams, Linda Moore, Nancy Lehmann-Carssow, Kristin Harrison and Cliff Brown, Police Monitor. Not pictured: Pastor Nestor Menjivar, and Mai Nguyen, former president of the Asian Chamber of Commerce.