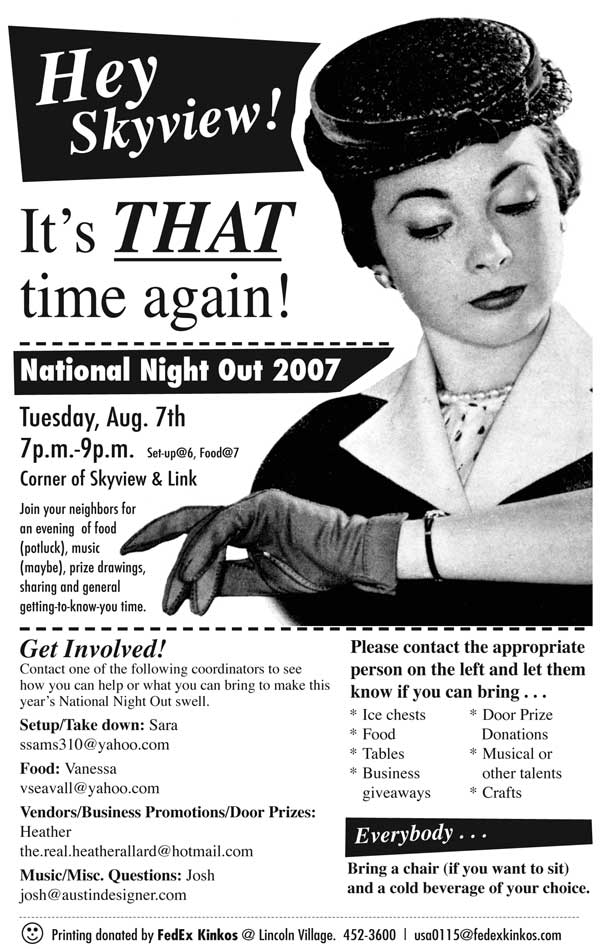 ---

The Skyview Neighborhood is bounded by Koenig, Denson, North Lamar and Airport. Most of the houses were built around 1950, and some of the original owners still reside here.

The Skyview Neighborhood Association is in the early stages of reestablishment, and as it grows, we hope it will foster a sense of community, help meet the needs of all its residents, and help preserve its unique character.

For more information, contact:
Martin Thomen martinkthomen@yahoo.com or
Kirsten Thompson - kirthompson@hotmail.com

Check out our new Skyview Neighborhood Artists/Musicians Page!
Contact Lisa Schneider if you're a Skyview neighborhood artist or musician who has any shows/performances coming up or a website you'd like to be listed on our links page. We all like to support our local talent!
We've set up an Email Discussion List in an attempt to open the lines of communication for the neighborhood about issues that affect the "well-being" of the neighborhood. This is completely voluntary...you are under no obligation to participate. But you are cordially invited to join and get to know your neighbors and discuss pertinent issues with us. Since not everyone can attend meetings, this can serve as another way to express opinions and concerns about what's going on in our neighborhood. There is a lot going on and it's important to hear from as many residents as possible. By participating, you can stay informed and make yourself heard. You can even play an active role in shaping events--simply by using email.

We will also continue to update and improve our website, send out Announcement-Only type email, and do as many flier/newsletters as time/money/volunteers allow. So, if you don't want to join, there will be plenty of opportunities to stay informed.

Looking forward to rich discussions and new friendships developing....hope you choose to join in.