Travis County Emergency Unit
From TCEU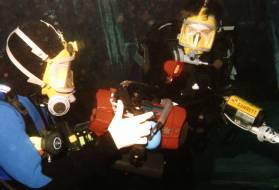 The Travis County Dive Team is a volunteer public service dive team in the Central Texas/Travis County/Austin area.
For the last thirty years, this dive team has provided underwater search and recovery assistance in Travis County and throughout central Texas since 1972. The Travis County Dive Team is one of the oldest public service dive teams in the Austin/Central Texas area.
The original roots of the Dive team are in the professional divers at University of Texas Advanced Research Lab [UT ARL] as noted in the history pages below.
Please send website feedback and help requests to [TCEU Webmaster]
General Information
2010 Officers
TCEU Rules and Bylaws
   In 2009 the team revised the Rules and Bylaws.[1]

Meetings
  TCEU Dive Team conducts meetings the first Wednesday of the month unless it conflicts with Holiday or other important event.
  Currently we're meeting at Santa Rita in the 26 Doors shopping center at 6:30pm

   Donation and TCEU officer contact info

Callout Page
Edit - test - 09/14/07 - 11:22 PM
Team Pictures
Training Information
  

TCEU Dive Team conducts training at least once a month the second Saturday after the meeting 
     unless it conflicts with Holiday or other important event.



  Training includes:
    Diving with and maintaining a Full Face Mask equipped with Communcations.
    Diving with a Pony Bottle and recommeded rigging/use.[2]
    Tethered Diving Techniques and Positions.[3]
    Basic Water Rescue Techniques (Snorkle Search, Reach-Throw-Row-Go Guidelines[4])
    Rope Searches including Extended Circle and Jack Stays[5]
    Contour Searches
    Limited Visibility Diving
    Scene Management
    Cold Water Diving
    Lift Bag Training (Large - 2000 lb to 1000 lb and Medium - 100 lb to 200 lb)
    Rigging Vehicles underwater
    Public Safter Diver Swim Test
    *We've also we've had and sometimes get training from the FBI in Underwater Evidence Handling Techniques
    *Frequently we do other training like Dan AED, O2 Provider, etc ...

Travis County Dive Team Training Documents.
These are some typical search patterns that may be used by our team.
---
A simple set of rope signals that apply to Circle, Z, Spiral, and Shore-Based patterns.
A word of warning. Rope searches present the possibility of entanglement and should not be attempted without proper training.
This is a procedure for covering a large rectangular area with 2 divers. It requires a lot of time and effort to set up. It moves quickly once it is set up and moving.
A variation on the 2-person Z that moves even faster but takes more trained personnel.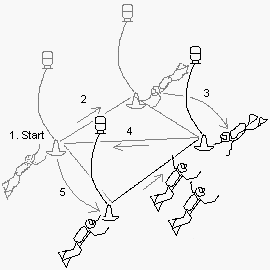 The Spiral is a useful Rescue pattern if you can get a PLS marker buoy set close to where the subject went down. The Spiral is a three-person pattern: an anchor, one point, and one safety. The safety diver stays at the surface to relay signals between the anchor diver and topside personnel. The Spiral is limited to 20 foot radius unless you have very smooth bottom conditions with no obstructions. It takes about 7 minutes to run a 20-foot spiral with few obstructions in the search area. It takes about 10 minutes if there are obstructions or ledges.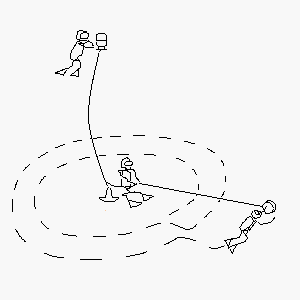 This is a procedure for operating a large circle pattern in low visibility. We are currently working on modifications to cover maneuvering the new modular search line through obstructions. In typical operations we run this pattern with a team of six divers on a 65-foot search line. That gives us 4 sweeps, an anchor, and a point. The two inside sweeps cover two ten-foot line segments each, and the two outer sweeps cover one segment each. It takes about 12 minutes to run a complete circle in a typical Lake Travis body search with zero to four foot visibility.
This is a procedure for operating a large Jack Stay pattern in low visibility. In typical operations we run this pattern with a team of six divers on a 65-foot search line. That gives us 4 sweeps, an anchor, and a point. The two inside sweeps cover two ten-foot line segments each, and the two outer sweeps cover one segment each.
History
Interview with Lew Thompson Founding Member[6]
History of the Travis County Dive Team
Early History: 1972-74
The Dive Team got started in 1972 when Austin area law enforcement officials needed divers to recover some evidence. They believed that a gun used in a crime had been thrown into Town Lake. They turned to the University of Texas Applied Research Laboratory, known as "ARL", for assistance. ARL conducts research and development involving underwater projects. Some ARL engineers also work as divers on the underwater rigging of their projects. ARL engineer-divers recovered the gun and prosecutors used it as evidence to obtain a conviction.
In the early 1970's there were very few public service divers anywhere, and none in central Texas. In fact there were very few SCUBA divers of any kind in central Texas. Law enforcement officials were fortunate if they could find civilian divers to help in underwater evidence recovery. Rescue squads faced with reported drownings had to resort to dragging with grapples, which was seldom successful. As Austin and Travis County law enforcement agencies discovered what divers could do they turned to ARL more frequently for underwater search and recovery.
In March, 1973 some of the ARL divers started organizing an underwater search and recovery team to assist local emergency service agencies. In 1974 the team was organized as part of the Travis County Emergency Unit. The Travis County Emergency Unit
The Travis County Emergency Unit (TCEU) was the volunteer rescue squad for Travis County from the late 1960's through the 1970's. TCEU operated two rescue squads, one for the whole county north of the Colorado River and one south of the river. The Dive Team was set up as an independent part of TCEU. The rescue squads took care of area lighting and general surface support while the Dive Team was in charge of all aspects of dive operations.
The Travis County Sheriff's office (TCSO) has overall responsibility for missing persons operations and crime scenes throughout the County outside the City of Austin. The Sheriff's office and TCEU quickly learned that divers handled drowning recoveries much faster and more humanely than the old practice of grappling from boats. By the end of 1974 Travis County had abandoned surface dragging in favor of dive recovery operations. The Dive Team was also called in on water-related investigations and evidence searches. Surrounding counties and other agencies like the Texas Department of Public Safety (DPS) learned about the Travis County Dive Team and occasionally called for help from the Team.
The Dive Team kept a low profile, grew slowly, and built a solid reputation among central Texas emergency service agencies. We gradually took on members from the local diving community, but diver-engineers from ARL remain the central core of the Dive Team. They give us a base of divers with current skills and equipment for very deep water and other difficult diving operations. In Travis County the volunteer dive team includes some of the best professional divers around.
TCEU also added a Communications Squad, with a van equipped with a wide array of radio and telephone communications equipment. By the late 1970's TCEU had specialty services available through the Dive Team and the Communications Squad that went far beyond what most paid municipal emergency service organizations had.
The Dive Team gradually built up a supply of search and recovery equipment, some purchased and some home-made. We now have a variety of equipment for underwater search and recovery, vehicle recovery, and water rescue. Area dive shops have always provided strong support to the Team. We kept our equipment in a series of old TCEU trucks, eventually purchasing our own trailer in 1982 when the last of the TCEU trucks was scrapped. The Austin Fire Department Dive Rescue Team
The Austin Fire Department (AFD) has responsibility for rescue operations in the City of Austin. In the late 1970's we offered our assistance to AFD on a few difficult underwater recovery operations. AFD quickly learned what Travis County already knew about the value of search and recovery divers. By 1979 the Team was routinely called in on all underwater accident operations anywhere in Travis County. AFD also began organizing their own dive team. We provided training in dive operations and also supplied copies of our manuals with detailed descriptions of diving conditions in local lakes and quarries.
By 1981 AFD had their Dive Rescue Team in place. Staffed with on-duty paid firefighters, the AFD team can deploy rescue divers into Austin lakes within a few minutes. We occasionally assist AFD when they have multiple recovery operations at the same time, and AFD occasionally sends divers into Travis County for possible fast response rescue situations.
The Travis County Dive Team Today
By the late 1970's there had been dramatic improvements in rescue and emergency medical services. There was a network of volunteer Emergency Medical Service (EMS) First Responder agencies throughout Travis County. The volunteer Fire Departments and EMS agencies had taken over responsibility for rescue operations from the TCEU rescue squads. Eventually the TCEU rescue squads were disbanded. The old TCEU Communications Squad became a separate organization closely tied with the Travis County Sheriff's office. Today the Dive Team is the only remaining active part of the old TCEU. Our full title is still "Travis County Emergency Unit Dive Team". But most emergency service agencies just call us "the Dive Team".
ARL remains a strong supporter of the Team, and ARL diver-engineers still form the central core of the Team. We also have several members from the local diving community, many of whom are instructors.
Our diver-engineers from ARL are also pretty good engineers. They built a communications kit that is passed among team members weekly. The kit contains a cellular phone with data connector, a handheld 2-way radio with charger, and a console that can send messages to our alphanumeric pagers through the cellular phone. The kit has a rechargeable battery pack, a standard 110VAC power cord connector, and an inverter with an automobile cigarette lighter connector. The TCSO unit designation of the communications kit is "Dive Team 6", the primary responding diver.
We outgrew our first 5x8 trailer and replaced it with an 8x12 dual axle trailer. It is housed at the Travis County Precinct 2 garage facilities near the north end of Mansfield Dam. The TCSO unit designation of the trailer is "Dive Team 98."
We also operate a small outboard motorboat that belongs to the Sheriff's Office. With the number of larger patrol boats on Lake Travis we no longer use it for Lake operations. We occasionally take it on operations in rivers and large ponds where there are no other boats available.
In 1997 we started using full-face masks with voice communications gear. Full-face masks with voice communicators are becoming widely used among public service dive teams throughout the country. We originally wanted to get body recovery divers into full-face masks to provide better protection against water-born pathogens. But we quickly discovered that voice communications gave us a large improvement in safety and capability. The Team currently has seven Divator Mk.II masks with BuddyPhone II communicators, and several members have their own mask and communicator sets. We also have a surface communications console built into a portable kit with a tape recorder, headset, batteries, and spare parts.
By 1998 we routinely used voice communication to run surface-assisted search patterns with multiple divers. Several years ago we began using modular search lines made from 10-foot line segments with a loop on one end and a snap shackle on the other end. With diver-to-diver voice communications we can sweep line patterns through obstructed areas by breaking and reconnecting the modular line to get past obstacles.