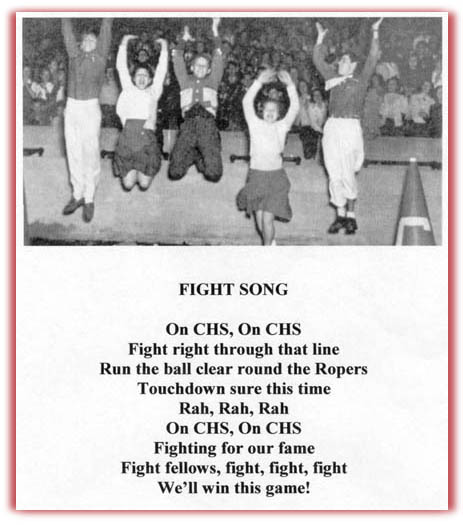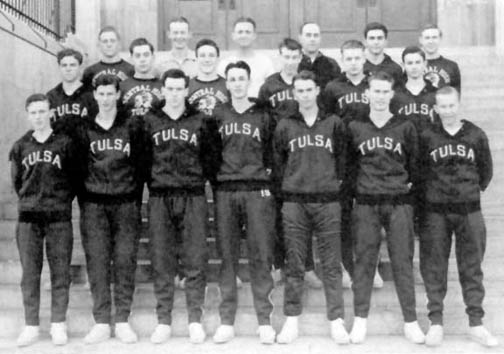 BASKETBALL
First Row: Jim Briley, Gerald Carrens, William Allen, Bill Smith, Bill Robinson, Kenneth Scott, Carl Carpenter
Second Row: Gene Lewis, H.M. Hughes, Paul Graham, Burrell Lewis, Carl Lattimore, Ed Robinson
Third Row: Perry Moss, Malcolm Orr, Coach: Walter Barham, Coach: Grady Skillern, Coach: Dale Morrow, Jerry Dunlap
Under the splendid coaching of Grady Skillern, the Central Braves were
the City Champions, Oklahoma SIx Conference Champions for 1943.
They went through the season with thirteen victories and with but one
defeat to Classen 30-28. William (Bill) Allen was elected captain by his
team mates for the 1943 season. Bill was also the 1943 Class President.
---


CROSS COUNTRY
Walter Ficklin, Bob Kenslow, Jack Culley, Benny Upson, Eideon Ferguson, Coach: William Lantz

Coach Lantz always gives Central a championship team, and the
Braves' Cross Country team has never bee beaten in the six years
of existence of the cross country run.
---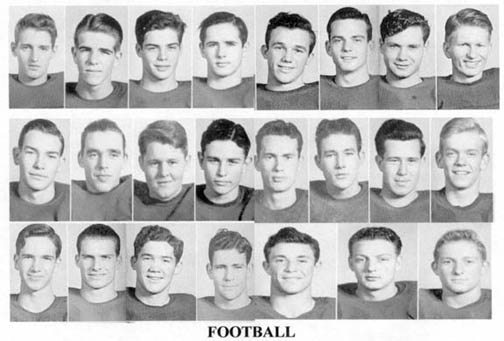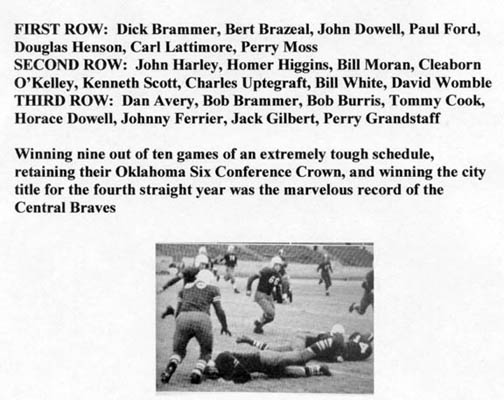 ---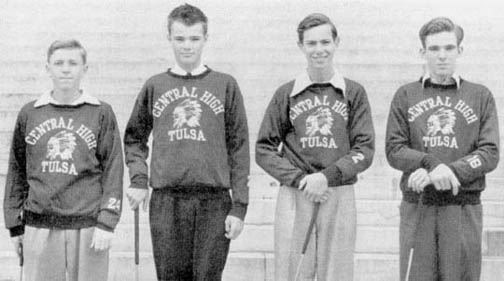 GOLF
Jerry Barnett, Tom Marshall, Jack Tillman, C.O. Roberts, captain

Finishing the season by placing first int the city meet, the golf team
ended the season the same way it started it - with wins. Mr. RIggs
took over the coaching job left by Charles Nussbaum, who is now a
lieutenant in the Army.
---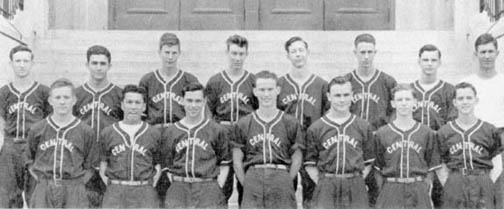 SOFTBALL
FIrst Row: Perry Moss, Paul Annex, Hiram Burney, Kenneth Scott, Edwin Bradford, Don Turner, Morris Neighbors
Second Row: Joe Collier, Dale Morrow, Gerald Carrens, Burrell Lewis, Clinton Northcutt, Shelly Carrens,
Paul Neighbors, Coach: Clarence Ehiers.

Completing their third year of competition in this, the newest sport at Central,
the softball team ran away with the Oklahoma Six Championship with
Clarence Ehlers coaching the team.
---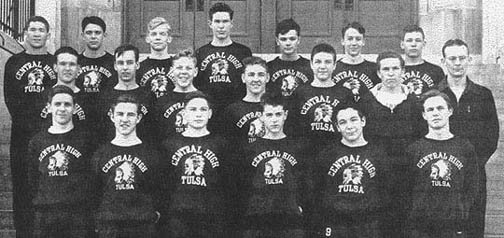 VICTORY CORPS SWIMMING
First Row: Gene Moncrief, Thom Detjen, Robert Brewer, DIck Rodgers, Eddie Terrell, Jack Dunn
Second Row: Bob Hobock, David Mitchell, Bill Stanbery, Eddie Wies, Ted Haugh, Wallace Branstetter, Coach: Malcolm Orr
Third Row: John Dowell, John Casey, David Womble, Bruce Mullins, Tommy Marshall, Donald Spindler, Herbert Shaffer.

Instead of the interscholastic competition that has been held in years past, this years's
classes have adopted a program to meet the demands of the times. Melvin E. RIggs
has designed a plan following mainly that of the physical fitness program of the victory corps.
Since our armed forces are operating under condtions demanding that the individual
be able to take care of himself in water, the idea of the course is to prepare boys for the
problems that are apt to confront them when they have entered the service.
Besides knowing the breast, side, and back strokes, the boys must learn many special
techniques of which these form a basis: To escape oil burning on the surface of the water,
the boys must learn to stay under water for one and a half minutes and to swim under water
for sixty feet. They must learn to handle equipment in and on the water and they must become
accustomed to being in the water fully clothed. For handling equipment the most difficult exercise
is jumping in the water with a gun and swimming three lengths of the pool without getting water on
it. As preparation for life saving they must carry another person three lengths of the pool. The
things that the boys must learn in this course will better prepare them for the part they must play
in the nation's war effort.
---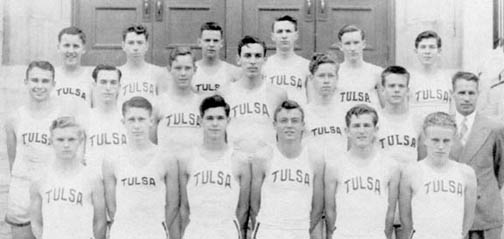 TRACK TEAM
First Row: Walter Ficklin, Al Price, Jack Osborn, Jay Braithwaite, Gerald Senter, Joe Pitt
Second Row: Jimmy Jones, Bill Tooke, Jack Kroll, John Finley, Pat White, Johnny Ferrier, Coach: William C. Lantz
Third Row: Paul Thornburg, RIchard Howser, Vern Oakley, James Martin, Jack Culley, John Burris

Under the guidance of William Lantz, and with John Finley as captain,
the track team won first place in seven meets for a most brilliant record.
---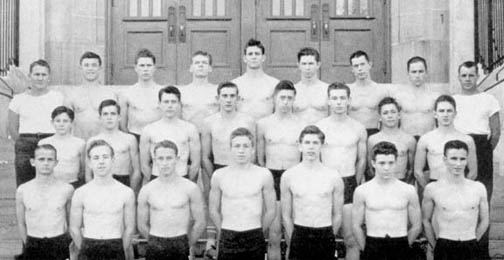 WRESTLING
First Row: Bob Brown, Don Anderson, Everett Hauser, Don Whitlock, Whit Mauzy, James Johnson, Bill Klein
Second Row: Leroy Armstrong, Richard Dickenson, Bill Galbraith, George Walden, Richard Dunn, Robert Nelson,
Jake Ansei, Orace Johnson. Third Row: Melvin RIggs, Coach: Douglas Henson, Bill Manley, Jim Eagleton, Paul Ford,
Stephen Jacobs, Captain: Norwood Dunham, RIchard Fowlkes, Coach: Rex Peery.

Upholding the tradition of always having one of the finest wrestling teams in
the state, the Braves' wrestling team brought new honor and distinction to
Central by winning the city championship and producing four state champions.
Stephen Jacobs was the Captain of the team.
---