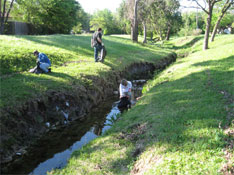 Seven enthusiastic neighbors, ten Glad ForceFlex bags, 65 delightful degrees and a mere two hours all added up to one tremendously successful First Annual WWD1 Clean Sweep of Upper Boggy Creek.
Team WWD1 was one of many groups who helped beautify more than 81 sites across Austin as part of the Keep Austin Beautiful-sponsored event on April 8, 2006.

While Sandy Smith, Leslie Lawson, Sydney Sharp and Isaiah Tibbs focused on the detail work on the creek banks--cigarette butts, styrofoam, and the occasional shoe--Scot Friedman took charge of hauling the big stuff: car parts, cement-embedded rebar, and sheet metal. Intrepid souls Priscilla Boston and Julie Nelson waded knee-deep in the creek, doing the real dirty work, hauling up all manner of ickiness including lots of plastic bags and blankets.