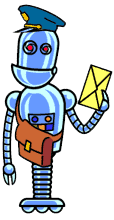 Get Connected!
The WWD1 E-Mail List
Makes it Easy and Fun!
Please take a minute to join the WWD1 Group E-mail List so that you will be included on all future neighborhood association e-mails! All you have to do is send an e-mail message to
wwd1-subscribe@yahoogroups.com
and your email address will be added to the list!

Then, to visit the WWD1 Group, go to
http://groups.yahoo.com/group/wwd1


Here are some things you should know
YOUR PRIVACY IS IMPORTANT.

All messages sent to the WWD1 list are sent with undisclosed recipients. This means that well-meaning -- and not-so-well-meaning -- people can't extract your name and e-mail address and add it to their own address books.
The WWD1 List is not and will not be shared with any outside parties.


YOUR TIME IS IMPORTANT.

We won't waste your time with virus warnings, online petitions, or shocking hoaxes about Congress taxing your e-mail messages.
We're working on keeping the messages short. We'll provide the dates and times of upcoming meetings or neighborhood events, but save the details for the website.


YOU ARE IMPORTANT.

A Neighborhood's quality of life depends on neighbors knowing each other, and communicating their news and concerns. Please get connected.
-JV