Eastern Travis County History
There is a small Heritage and History Collection at the Manor Volunteer Library.
The purpose of this project is educational:


to provide and maintain an organization for the study of historical and genealogical records,


to collect and preserve these records,


and to make them available for research in the Manor Volunteer Library.

If you have newspaper clippings (obituaries, wedding and anniversary announcements, historical events) or family papers or photos of this area, we need your help. Old maps, cemetery listings, church histories, etc. are also needed.


Manor 1924
drawn by Frankie Gage Hennig




---





The Arthur J. Higgins Texas Films Collection, no. 13 - Manor, 1937



Wm Luedecke hardware Store


Wm Luedecke inside store


Wm Luedecke Home place


Wm Luedecke Home place



Wm Luedecke 1st home


Matilda Sjoberg Sponberg



A. J. and Britta Sjoberg


Andrew Sponberg, 1923

---
The area to be covered by the project includes:

Carlson

Decker

Gregg

Hornsby Bend

Kimbro

Littig

Manda

Manor

New Sweden

Sprinkle

Webberville +

All land east of Austin and Pflugerville in Travis County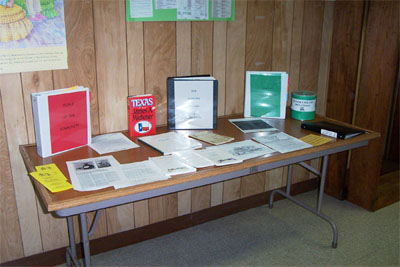 The Collection is Housed in the Foyer of the Manor Volunteer Library.
---
Here is a list of indexes that you can read to see what records are already in the Collection. If you find there is a record you would like to see, please contact Kay directly as described below. She will be more than happy to help you.
Please contact Kay at (512) 836-7484 or by e-mail mkdb1405@gmail.com if you need help, or have any materials to add to the collection.