Tulsa Central High School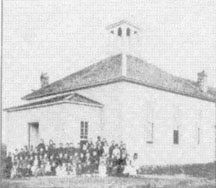 Tulsa's school system began in a small, white frame building
on the corner of 4th and Boston. It was built in 1895 by the
Presbyterian Mission for Creek Indians.
---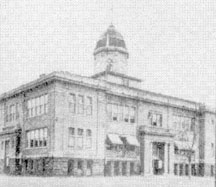 At the turn of the century, Tulsa grew so rapidly that the
Mission School was soon overcrowded.
Tulsa High School was built on the site of the Mission
School designed to accommodate 1,500 students, it was opened in 1909.
But since the young community was growing so quickly, its schools
were outgrown almost before they were completed.
---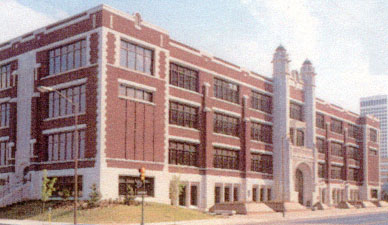 September 22, 1916 was a red-letter day for Tulsa.
Thousands of people made they way downtown to Sixth Street
and Cincinnati Avenue for a celebration. On that day, the cornerstone
was laid for Tulsa Central High School.
The city continued to prosper, and by the spring of 1919, the new school
had reached a capacity enrollment. To ease the overcrowding, a south
wing was added to Central three years later. And in 1922, Tulsans were
proud to claim the second-largest high school in America.
For 23 years, Central was Tulsa's only high school. In 1938, top enrollment
was more than 5,000 students. And by 1976, over 44,000 had received
their diplomas from the school that had earned a nationwide reputation for
outstanding athletic and academic achievements.
In 1976, after more than six decades of education, pride and heritage,
Central closed its doors for the last time as a high school. But the
great spirit of Central will continue for years to come.
Public Service Company's pride and confidence in Tulsa has led
to the renovation of this important landmark. And it stands today,
much as it did sixty years ago, as a symbol of our city's progress and promise.

---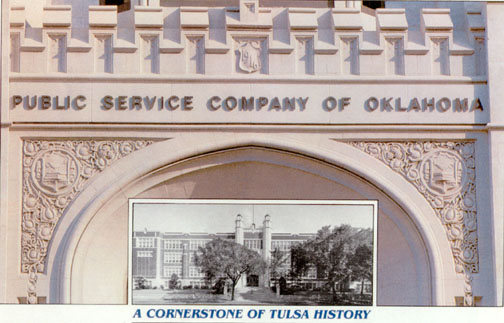 Photos courtesy Beryl D. Ford collection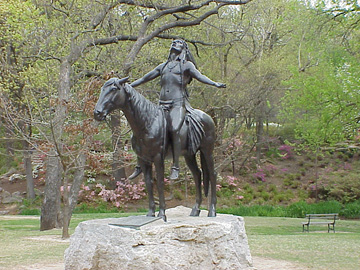 The "Great Spirit" Statue is now located at Woodward Park.