Events and News
September 2004
On the 18th we had our annual book sale at the Manor Fest. Many boxes of books were hauled over to the Festival and many were hauled back.
Here's Kay and Jim putting up the awning.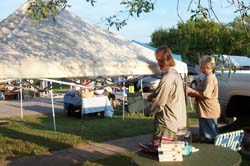 Here are Some of the Customers Looking Over the Books
To return to archives of Events and News, please visit Archives.