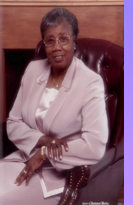 Overseer Betty J. Crowder is an overseer, pastor, teacher, evangelist and prophetess who have traveled extensively throughout the United States. She is divinely appointed to go out to help establish other churches, as well as, set in order and build up existing ones. Being styled as a great leader, she is able to discern the mind of God and declare his purpose to the people. She is a warrior-leader and a companion in battle. She is a fearless patriot who is chosen to set God's people free from oppression and defeat.
Overseer Crowder was born in Houston, Texas. She received the gift of the Holy Ghost under the leadership of Elder Duncan of Center Street C.O.G.I.C. at the age of 12 and was reclaimed in the Holy Ghost at the age of 19. She worked enthusiastically in all departments in the church. She became a witness for Christ and led many souls to salvation.
She spent eleven (11) years working on the field as an evangelist, spreading the Word of God. In 1964, she was called to her Pastoral ministry and was ordained. With a desire to obey God, she founded her first church in her home. Under a great anointing to teach, preach and prophesy, the congregation of God's Word in Deliverance grew rapidly, and the church relocated to a building.
In 1996, with an even higher calling on her life, she was ordained an Overseer. Walking in an apostolic calling, she is "sent" to work with all faiths. She has worked with all denominations. Her radio ministry has blessed thousands throughout the state of Texas.
Overseer Crowder teaches and preaches the uncompromising Word of God with a power and authority that is exciting, but with a love, that delivers the message directly to the heart. Her down to earth approach and dynamic illustrations clearly show the absolute authority of God's Word. She is also an in-depth seminar teacher. Some of her topics of seminars being: "Many are Called, Few Are Chosen", "The Tabernacle of Man", "Being Filled With The Holy Ghost", "Demonology", "The Power of Prayer", "The Priesthood", "Coming Out of Your Cocoon" and "Tearing Down Your Walls of Damaged Emotions".