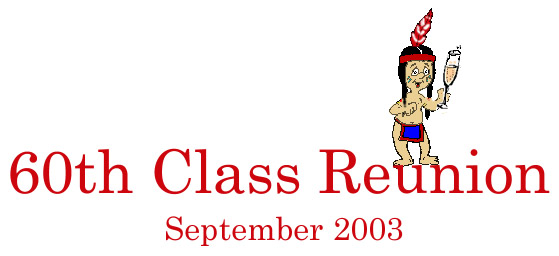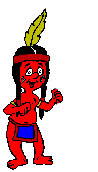 Dear Classmates:

What a wonderful time we had at the 60th Reunion held at the Adams Mark Hotel in Tulsa, OK. I don't know the exact number we had attending, but I think it was around one hundred. Even though quite a number of us had health problems I didn't see a face that didn't have a big smile on it and greeting each other accordingly.

We had classmates who made the supreme effort to attend. Joe Ashlock came from his home in Anchorage, Alaska, which was the longest distance anyone traveled, and he also furnished champagne for all the tables at our banquet. He also took lots of pictures with his digital camera which we will try to get on the web page at a future date. Jim and Dianne Lawrence came from Homer Glen, Il. Margie Semke Loveless came from Richardson, TX. Mary Lou Burkett Loveless came from Merriam, KS. Betty True McMahan came from South Bend, IN. Norma Anderson McMillian came from Albuquerque, NM. Thomas and Pat Fleeger came from Dallas, TX. John Harley came from Bloomfield Hills, MI. Ruth Harvey Kirkpatrick and John came from Afton, OK. Mary Helen Hendricks Hoover came from Houston, TX. Ruth and Francis Irving came Arcadia, CA. Nanon Lustic Peabody came from Escondido, CA. Ernestine Dubois and Lloyd Outlaw came from Morgan, TX. Roy and Faye Phillips came from Wagoner, OK. Mary Kate Wentworth and Don Roark came from Lakewood, CO. Elwood and Eileen Sanders came from Sun City, AZ. Betty Krebs Sheehan and two guest came from San Antonio, TX. Betty Slaughter Steel came from Englewood, CO. Gerre Rice Tripplehorn came from Omaha, NE. Betty Davis and Tom Winkler came from Sherman, TX. Joan and Joe King came from Trinity, TX. Harold Wright came from Houston, TX. Bill and Sue Ziegenhain came from Ponca City, OK Peggy Comfort Wetter came from Albany, WI. Bob Burris came from Aurora, CO. Horace B. "Spider" Dowell came from Athens, AL. Howard D. McCloud came from Mesa AZ. Bob Conger came from Aurora, CO. Patty Borofsky came from Rogers, AR. Adele Borne Spencer came from McAllen , TX.

Please forgive me if I missed someone, and if I did we were all glad you made the effort to attend the Reunion.

All others were from the Tulsa Metropolitan Area.

I Want to thank all who headed up the Reunion: Jean Redden Paul, Marge Stanley Glen, Ruth Harvey Kirkpatrick,
Adele Borne Spencer, Dick Howser, Ruth Austin Justus, Bonnie Dodson Monson, Dollie Curtis Fowler, Beryl Ford,
Virgie Bittle Tucker, Bill Allen, Roger Swift, Peggy Comfort Wetter, Bob Hensley, Garvin Berry, Rhoda Hazen Bailey
and my brain has gone into neutral and I know I have missed someone
and I apologize but we all appreciate what you all accomplished!!!!!

The Banquet was something special. Garvin Berry gave the Invocation, Dinner was served and was delicious, Bill Allen gave the Class Welcome, Roger Swift gave a Toast To Our Class, Roger Swift lead us in singing O Great Spirit, Mary Jane Williams Gibson sang A Daze Song, Peggy Comfort Wetter lead us in singing "Thanks For The Memories" she wrote the words. Jean Redden Paul and Marge Stanley Glenn were Co-Chairman.

There was a lot of reminiscing about the school years and many other things
and I think a few tears were shed by all of us. I know my eyes were misty.
Thanks for the Memories Dear Class of '43
For all you've meant to me,
It's been so long, yet ties are strong
Such love and loyalty!
Oh thank you so much.

Thanks for the memories, Have sixty years gone by
Since we left Central High?
It meant so much to keep in touch,
At least we said we'd try,
So thank you so much.

Many a year since we started,
And many a year since we parted,
We miss all the friends who've departed,
But I and you came "Smilin' Through!"

So thanks for the memories. Reunions have been great!
We treasure each Classmate.
There's been some strife in every life,
But now, Let's Celebrate!
And thank you so much!

Peggy Comfort Wetter, CHS 1943


Someone asked, at the banquet, "Will there be another reunion?" Only time will tell !!!!!

Love to You All!

Riley Foyil
Class of 43

Becky and Riley Foyil have been
collecting material for the Central web page. If you have
any ideas or pictures, contact them at home address,
12017 E. 85th Pl. No., Owasso, Ok. 74055 or email at:
foyilriley@aol.com